Europe's nationalist political stars lose luster, but ideology still glimmers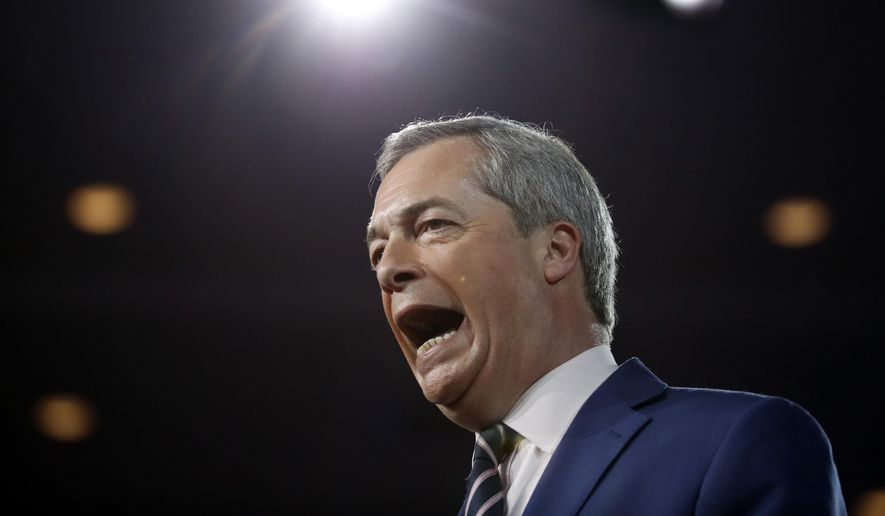 By Benjamin Plackett and Austin Davis – Special to The Washington Times 
- – Wednesday, December 13, 2017
LONDON — Nigel Farage fought more than perhaps any other British politician for his nation to leave the European Union, despite being a member of the European Parliament. With Mr. Farage now facing the irony of losing his seat as Britain's EU departure grinds toward fruition in 2019, some wonder if European elites have seen off the high tide of nationalism — or if another wave is on the horizon.
Right wing populist Marine Le Pen failed to win France's recent presidential election, and liberal Dutch Prime Minister Mark Rutte staved off a challenge from the hard-line nationalist and anti-Islam politician Geert Wilders this spring.
Like Mr. Farage, their star power has lost its shine, some analysts say.
"Farage is still box office as far as the mainstream media goes — he still seems to be a go-to guy for comments on all things Trump and Brexit," said Tim Bale, professor of politics at Queen Mary University of London. "He still has the power to irritate the political powers, but whether he has the power to persuade or mobilize large numbers of voters anymore is less certain."
While the U.K. did vote to leave the EU last year, it's Boris Johnson — not Mr. Farage — who is largely credited with that victory. Additionally, Mr. Farage's United Kingdom Independence Party didn't manage to win a single seat at Westminster in this year's snap election.
But it was when he ventured across the Atlantic for a string of speaking engagements that Mr. Farage's luck took a turn for the worse. He has since made a career of defending President Trump in the British media, including when the president recently retweeted a far-right, anti-Islamic politician convicted of religiously motivated harassment. 
"He gambled on being Trump's best British friend, and it's blown up in his face," said Mr. Bale. "So many people here are shocked by Trump's behavior or think he's ridiculous that it's not a plus to be associated with the president."
That feeling is shared by many British voters. "Farage is a collapsed, one-trick pony whose only claim to fame, other than disrupting Britain for generations to come, is a series of desperate photo opportunities with possibly the most despised man in the world at this current time," said Niall Mason, 39, an accountant from London.
That's more or less the case for Mr. Farage's far-right contemporaries on the Continent, too, analysts say.
Ms. Le Pen's journey to become a genuine contender for the Elysee Palace wasn't akin to the meteoric rise in nationalism that the U.K. has experienced with the Brexit referendum. The leader of the far-right National Front has enjoyed gradual, and some might argue more sustainable, progress in France.
In 2012, Ms. Le Pen took a respectable 17.9 percent of the votes in the first round of presidential elections. That grew to 21.3 percent in the first round this year and 33.9 percent in the second round.
"People thought Le Front National was done when Marine Le Pen took over, but the potential is still there. You can never write these politicians off," said Tim Oliver, an analyst at the London School of Economics and Political Science.
Even so, Ms. Le Pen's tactic of cozying up to Mr. Trump since his election has largely backfired in France just as it has with Farage, said Florian Hartleb, a German political scientist specializing in European populism and right-wing movements.
"It's no longer playing to her advantage to so strongly associate herself with Trump, and there's been massive infighting within the Front National," he said. "Marine Le Pen is being hotly contested within her party, and there's a big power struggle at play."
But given the disillusionment with the French political establishment that gave rise to Ms. Le Pen and French President Emmanuel Macron, it would be naive to say she is out for the count, said Mr. Oliver.
"She is still there but very much in the shadow of Macron, who is in his honeymoon period," he said. "She still has potential, and if there is another euro crisis, then she could get a boost again."
The Netherlands' Mr. Wilders and his right-wing, anti-Islam Party for Freedom have also lost their luster after failing to unseat Prime Minister Mark Rutte back in March — especially considering that Mr. Rutte and others have co-opted watered-down versions of Mr. Wilders' anti-immigration views for political capital, Mr. Hartleb said.
Although Mr. Wilders, Ms. Le Pen and their contemporaries may have influenced political discourse, their 15 minutes of fame may have come and gone, he said.
"It's true that they've had a lasting impact on politics and they've brought their agenda into the political discourse," said Mr. Hartleb. "But I believe here — similar to Marine Le Pen — they've exceeded their peak and are increasingly experiencing vulnerability."
Be that as it may, populist parties in Germany and Austria were able to make major electoral victories over the past year.
Germany's right-wing Alternative for Germany secured almost 13 percent of the vote in the nation's Sept. 24 elections — the first time since the 1950s that a right-wing party has sat in parliament. Meanwhile, the electoral gains of Austria's far-right Freedom Party have resulted in a conservative coalition government that will be sworn in this month.
But analysts say the wherewithal of these parties and their figureheads to continue to dominate the political mood in the U.K. and on the Continent depends on their ability to stay relevant in the absence of any major referendums or elections on the horizon.
"Anyone who thinks the media won't find someone else and move on is fooling themselves," said Mr. Bale. "Producers get bored. Audiences get bored."
⦁ Austin Davis reported from Berlin.